Custom Wood Plantation Shutters
Custom Wood Plantation Shutters Admired as fine window furniture and a testament to a homeowner's discerning style and sophistication, our wood plantation shutters are classed as the elite in fine window treatments.
Shutters & Blinds of Houston have been providing the lowest prices on our wood plantation shutters to thousands of Houstonians for years and often meeting or beating other local shutter company's quotes. With years of experience working with homeowners, designers, and custom home builders our professional plantation shutter specialist will provide a smooth, enjoyable process. Whether you want to create a traditional plantation shutter appearance or more interested in a contemporary modern look, our shutter consultants are there for you.
Our wood plantation shutters are hand crafted and born from fine select hardwoods that have been pre-cured for Houston's humid climate. Our shutters undergo a meticulous process that includes multiple sanding fallowed with five coats of your ideal paint or stain, once dry we then apply several layers of a UV protective coating. The result is a soft, lustrous surface similar to the feel of silk than the rough texture you see from other manufacturers.
When deciding on plantation shutters for your home and beauty, customer service, and cost matters, do not hesitate to call or schedule your consultation with Shutters & Blinds of Houston today.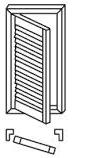 Click Here for Shutter Panel Configurations